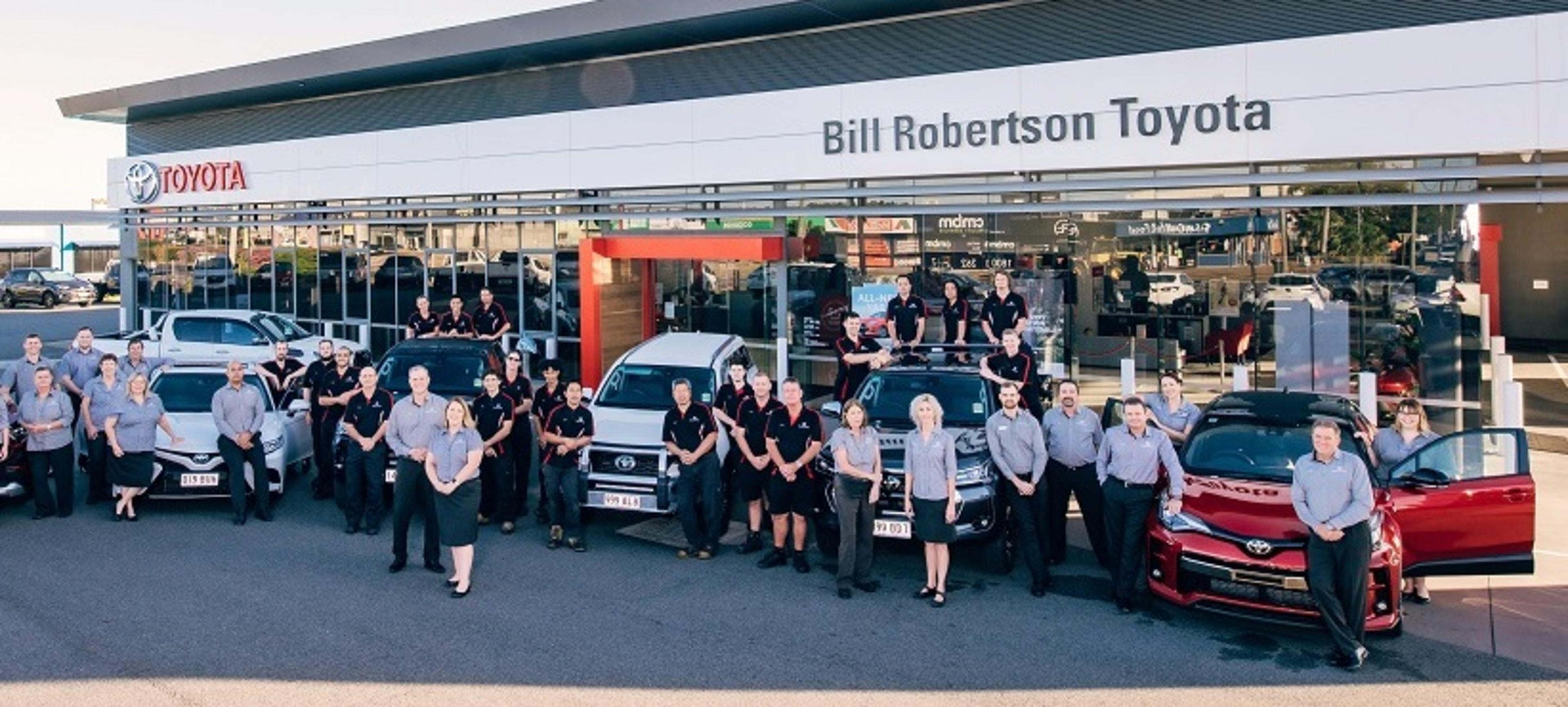 Why Buy from Bill Robertson Toyota?
Because at our Toyota dealership located in Gladstone, we have Great Reasons to buy your vehicle from us!
New and used cars you'll love

Capped price servicing

Genuine parts and accessories

Finance and insurance available

BRT Customer rewards. Which includes:
Free car wash every Saturday in our automatic car wash. 9am-12pm every Saturday except public holidays, no bookings required. Offer available to all our new and used vehicle buyers.

Free weekend ute loan. Pick up Friday afternoon, return Monday morning. To ensure all customers have the opportunity to borrow the ute within a reasonable time, customer bookings are limited to once every 3 months. Simply book in with our Service Department here. See more t's & c's below*.

Caltex fuel discounts for myToyota Connect members. Simply download the free myToyota Connect app and start saving!
Our unique BRT Customer Rewards program is just another way that we show our customers we care and value their business. We really do have Great Reasons to buy at Bill Robertson Toyota.
*Service Loan Ute Terms and Conditions:
Free weekend hire encompasses loan for a 3 night period only. Pick up Friday afternoon from 4pm, return the following Monday morning by 9am.

Ute loan is to provide customers with occasional access to carry out domestic tasks and bookings are for private use only, no business-related use.

Ute is supplied with a full tank of fuel, please refill prior to returning.

$1,000 insurance excess applies which the Hirer must sign before ute can be taken.

Hirer must have a current driver's license.

Free weekend ute loan available to customers once every 3 months.
About Bill Robertson Toyota
At Bill Robertson Toyota, we are passionate about selling New, Used and Demo Toyota vehicles in Gladstone. We pride ourselves on offering a service that goes way beyond the purchase. When you buy a Toyota from Bill Robertson Toyota, you become part of our Toyota family.
For more information about our Gladstone Toyota dealership, or the Toyota services we provide, please don't hesitate to Contact a friendly team member at Bill Robertson Toyota today.
Bill Robertson Toyota is renowned for their customer experience at our Gladstone Car Dealership and have been proudly serving the Gladstone region for over 45 years. We are the Gladstone Dealer for the entire range of new Toyota sales (private, bronze and fleet sales) and quality used vehicle sales (all makes and models). We are also the Gladstone Toyota Service Centre for all your Toyota Genuine Servicing needs and the authorised dealer for Toyota Genuine Parts and Accessories and all Toyota Finance and Insurance products.
Our Toyota trained team at our Gladstone Toyota Dealership, highly values our customers. We strive to ensure our customers' expectations are exceeded and receive exceptional service every time. We understand the importance of getting what you pay for, so our team clearly state the total purchase price on all vehicles. There are no hidden extras, and we honour our trade-in values.
Established in 1972, Bill Robertson Toyota is a family owned and operated Toyota dealership that's been providing the latest New Toyota and quality Used Cars to the Gladstone region for over 40 years. The Gladstone dealership was formed by Bill and Elizabeth Robertson and two partners Ian Lawrie and Lloyd Curtis. Lawrie was bought out early on, however Lloyd Curtis remained a strong supporter, only selling his share to Bill and Liz's son James in 2002. The company started trading on the corner of Boles and Breslin Streets and operated a Toyota agency, International Harvester agency and a petrol station. The business grew with Gladstone and in 1977 moved to their present location on Hanson Road. At the new site the business was solely a Toyota dealership. In 2005 Bill Robertson passed on the reins to son James who became the Dealer Principal of the family dealership and still is to this day. James's wife Erin also works alongside him in the business as our Marketing Manager.
The dealership is located on Hanson Road Gladstone just a few minutes from the Gladstone CBD and also a few minutes from Stockland Kin Kora. Our dealership has been recognised and awarded by Toyota Australia for our excellence in Customer Experience. This means that you can be confident that you will receive the very best service from our highly trained team in the highest standard of facilities, at every visit to Bill Robertson Toyota..
Our facilities were acknowledged at the 2016 Master Builders Awards with Bill Robertson Toyota's redeveloped dealership being named Best Retail Facility at the 2016 Master Builders Central Queensland Housing & Construction Awards. Gladstone builder Chris Bell and his team from C J Bell Builders Pty Ltd won the award for the multi-million-dollar year-long redevelopment of our Gladstone dealership at 84 Hanson Road.
We also offer a range of services including, New and Used Vehicles, Toyota Servicing, Finance and Insurance products and stock a large range of Toyota Genuine Parts and Accessories.
Along with valuing our customers, we also understand how important our community is and each year we sponsor a number of local events, schools, charities and sporting organisations in the Gladstone, Calliope, Boyne, Tannum Sands and Agnes Water areas. Click here to find out what local charities and organisations we support.
In Dec 2018 we formally announced our partnership as the Major Sponsor of the Gladstone Mudcrab's now known as the Bill Robertson Toyota Gladstone Suns. We have enjoyed some fantastic years of football and watching this partnership grow.
Our Environmental Statement
Bill Robertson Toyota recognises that cars contribute significantly to the environmental burden. To ensure minimal adverse environmental impact Bill Robertson Toyota will comply and obey any direction, with all environmental legislation from National, State or Local Government authorities.
In 2022 we once again have won the Toyota Australia Gold Facilities & Environmental Excellence Award, which further demonstrates our commitment to the Gladstone Community.
We will continue to look for ways to reduce waste, and our electricity and water consumption.
- To reduce our electricity and water consumption from the grid by 5% each year.
- When purchasing any goods or services preference is given to those which are certified environmentally friendly, using recycled materials, if all other factors are equal.
- Where possible, communication should be electronic and not paper based. We will only purchase 100% recycled paper.
- Have processes in place to recover and/or recycle the waste generated by our operations at our premises. Have zero waste to landfill.
- Our environmental policy includes reducing, reusing and recycling with, electricity, waste, general waste, paper and along with environmental practices in our kitchen and purchasing practices.
A copy of our complete Environmental Policy is available at our main showroom reception.
We also pride ourselves on educating the Gladstone community on ecodriving tips. Ecodriving is a better way of driving to reduce fuel consumption and is a simple and low cost initiative that can be adopted by all of our customers. Toyota Australia wants to ensure that our customers get to enjoy the best and most efficient motoring experience in their Toyota vehicles while also minimising their impact on the environment. Implementing even a few of the EcoDriving tips can lead to fuel (and time) savings when you travel.
The 7 Key Principles of EcoDriving are:
Plan your trip in advance.

Remove unnecessary weight and resistance from your car.

Keep tyre pressures at recommended levels.

Accelerate and decelerate smoothly.

Drive in a highest possible gear and at a constant speed.

Limit the use of your car air conditioning and other electrical equipment.

Keep your Toyota regularly serviced.